From today Timestamp is no longer a UK-only offering. Now you can select your business's country, from Afghanistan to Zimbabwe, and have the correct date conventions and your local currency throughout the app.
Project, time and expense tracking is a universal problem which until now we only solved correctly in the UK. You may have been able to use Timestamp outside of the UK but we did not respect your date conventions (is it DD/MM/YYYY or MM/DD/YYYY or something else entirely?!), and because we did not capture where you are we could not use your local currency.
Billing improvements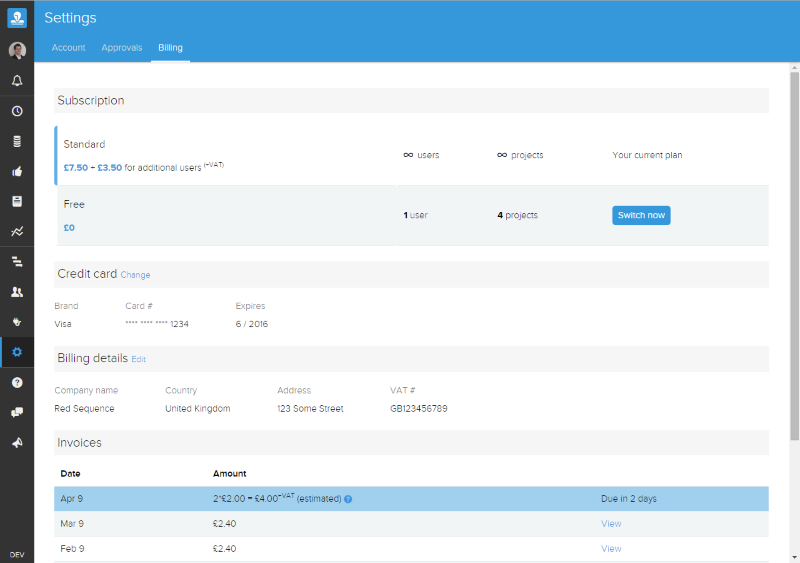 To go along with our globalization efforts we have spent some time polishing the billing and plans areas of Timestamp.
We no longer split between billing information and plans, instead preferring to put everything on one easy to use page. You can now see your current plan, switch to others that are available and modify and add your card and business details in one place in addition to viewing all of your previous invoices.
VAT and the EU
We have also upgraded our billing systems to ensure we follow the (perhaps a little perplexing!) EU VAT rules introduced January 2015.
What this change means to you is that we will charge you the correct VAT (or not) based on where you are based and whether you have a valid VAT number.
For all existing UK customers nothing changes, we will continue charging VAT at our home rate of 20%. For all other customers you will fall in to one of the following brackets:
A VAT registered EU business with a valid VAT number: We will not charge VAT
A non-VAT registered EU business / EU consumer: We will charge you VAT at the rate of your business's base
A Non-EU customer: We will not charge VAT
If you are an existing customer go and check your billing details now to make sure we have all your latest information.