A little late, but Happy New Year to everyone and welcome to our first round-up of 2015. We've spent January working on getting project dashboards to the next level and polishing many areas of the app to make it more useful and easy to use day-to-day. We want to get you up to speed with all the goodies so you can start making use of them straight away.
Project dashboards
We believe that the ability to gain insights into your projects and resources is one of the key reasons to use a time tracking/expenses system like Timestamp in the first place. Why track time if you cannot gain actionable insights? We've had the foundations in for a while, but this is the first release to really put project analytics front and centre.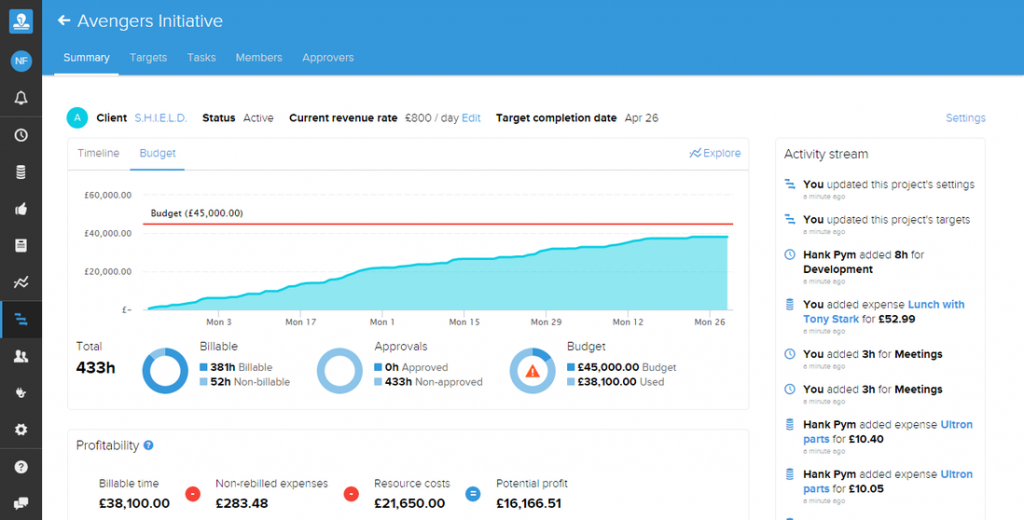 With new visualisations of your time, and the addition of budgets and targets, you are now not only able to see where you are spending time on a project, but also how much that time is making you (or costing!). To enable this we have put live a number of new features, including:
Project targets tab - From this new tab in the details of each project you can set a budget and other targets for your projects. It is also the new home for target completion date, and any new target information we need to collect going forward.
Timeline chart - shows the time over the lifetime of the project, showing at a glance the distribution of work done on the project at a glance. Click explore to be taken to the newly improved project time report to really understand where your time is being spent.
Budget chart (project dashboard) - if you have revenue rates set (at either project, task or project membership level) then the budget overview will give you your current burn rate so far, and show you how close you are to your budget.
Quick glance highlights - Glanceable project information including Billable vs. non-billable, approved vs. non-approved time and budget usage, if you have one set.
New client user dashboard - Client users get a new & improved dashboard that shows them an overview of the their projects, showing the same glanceable details as above
Improvements to Timesheets
We've had a number of customers request the ability to add blocks of missing time for time periods long in the past. Whilst you've always been able to enter time for any date you want, the experience wasn't exposed well enough beyond 8 weeks in the past. To improve this experience we've made a number of improvements to timesheets: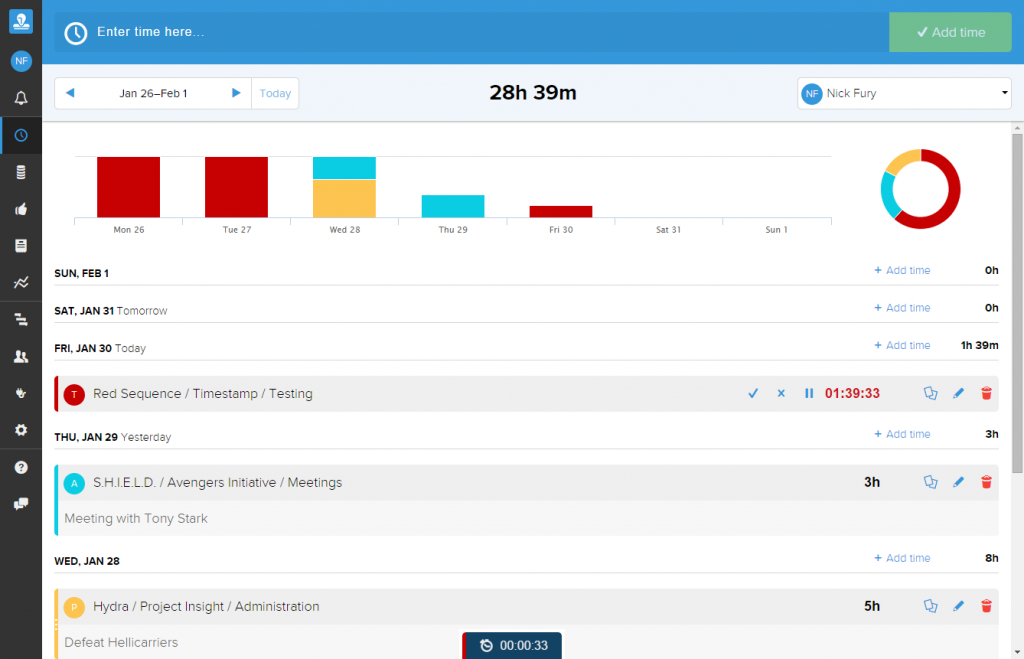 New date selector allows you to navigate to any week quickly.
All days for a week are now exposed all the time, allowing you to click 'Add time' quickly for a specific day. Showing all days also makes drag and drop editing a more pleasant experience.
Account managers can now select any user in their team and see their timesheets. There is currently no editing support but this is coming soon.
Improved graphs, more in-keeping with the dashboards (including showing a full bar for Mondays, instead of the half-bar oddity we used to have!)
All-in-all, this gives us the foundation for adding new timesheet views (like monthly calendar view) and improving both the mouse and keyboard time entry creation experience in the future.
Approvals
We added the new timesheet date selector into both time and expense approvals to provide a consistent experience across the app. As with timesheets, this has now moved to the top left of the screen.
User permissions
In the course of working out user permissions, we have deprecated the ability to flag a specific user with 'Can view financials'. This flag hid financial information at various points in the UI but was hard to reason about.
This has been replaced with the ability to create a new project membership type - a 'Project manager with costs'. The Project manager user type can now only see revenues and revenue rates for their projects. A Project manager with costs can see the internal resource costs and can override them for their specific project if required.
Xero update
We are now an official Xero partner and are working with some beta customers before being officially launched with Xero.
Are you a Xero user? Fancy getting involved? Email us at info@timestamp.io with the subject: Xero beta test. All Xero beta testers will get 50% off for the lifetime of their subscription.
We have had a very busy month getting great new features like the project dashboards and making improvements throughout the app, particular to timesheets and approvals. We are not finished though and would love to hear your thoughts on these changes and anything else. Leave a comment here or contact us at support@timestamp.io